How Women Justify Their Spending For Expensive Lingerie
To understand why women feel the need to purchase these luxurious items, browse through a few of the online designer collections of fine lingerie and intimate apparel.

Start With Luxury French Lingerie
This lingerie e-boutique is an American based fine lingerie and luxury nightwear shop that specializes in made-to-order and made-to-measure French  designer collections.
Be enchanted by their exquisite selection of intimate apparel and nightwear.
Shop for baby-dolls, teddies, chemises, basques and bustiers, bras and briefs, camisoles, French knickers, corsets, silk matching sets of bras and briefs, negligees, pure silk mousseline gowns with Calais lace trimming, stunning long lace robes, silk and satin robes, nightdresses, bridal linger and more elegant, sensual, seductive combinations from to European designers.
Select from an extensive inventory of designer brands which include Aubade, Beauty Night, Coquette, Escarte, Lisa Charmel, Irali, Gracya, Lepel, Liliana Casanova, Provocative, Simon Perele, Gilda & Pearl, Lejaby, Janet Reger, Wolbar and more.
Plus sizes, gift cards, e-gift cards, half price sales, gift wrapping, and international shipping is available.
Follow With Tanga Fine Lingerie
This lingerie e-boutique caters to fine lingerie collections from European and international designers.
Browse through the New Arrivals  category and be enchanted and inspired by the  latest lingerie trends and collections:  Ecrin Sensuel, Envoutante Esquisse and Reine des Faux-Semblants       (bra and ensemble) collections from Aubade of France; Dentelle Chemise, Elisabette Ruby Chemise and Effusion Collection (bra and ensemble) from Cotton Club of Italy;  Africa Collection From Chantelle of France; Demure Silk Pink Chemise collection from ID Sarrieri; Paris Frivole Silk Chemise & Robe Collection from Lise Charmel of France, and many more provocative collections.
Gift certificates, gift registry, satin fabric wrap gift wrapping, discount specials and international shipping is available.
Brands include Argentino, Aubade, Bordelle, Chantelle, Christina Iaia, Cotton Club, Flora Nikrooz, Fruit de la Passion, Gerbe, ID Sarrieri, Leigh Bantivoglio, Lise Charmel, Mellesia, Nicole Olivier, Nina Ricci, Pain de Sucre, Ravage, Rien, Rossella, Simone Perele, and Stocking Girl.

Bargain Hunters Browse Through Ennia Lingerie UK
Shop for exclusive European fine lingerie made of the finest fabrics and embroideries from Italy, France, Austria and Switzerland.
Find designer collections of bras and  matching sets, bridal lingerie, chemises, babydolls, night dresses/gowns, ensembles, robes and more silk, satin,   lace and embroidery luxurious lingerie items. Brand names include Gracya, Ennia, Roza, VIPA, Corin, and Irall.
The inventory of these collections is immense and the prices are unbeatable. This is a recommended site for high quality designer fine lingerie at super affordable prices and impeccable customer service and satisfaction.
Read a few of the Testimonials.
This boutique rolls out the red carpet when it comes to customer satisfaction.  They have stock sales up to 50% off retail prices, promotional discount offers/discount promotion codes for designated designer collections, new customers receive a 10% discount voucher, customers receive a free gift from selected items from their online store for orders of 40 or more euros, free gift box on all orders (except for clearance items), international shipping.  They also have a Customer Loyalty Rewards discount scheme for repeat customers.
Fine Lingerie Nightwear & Intimate Apparel Is Empowering
Beauty and sex appeal, quality and comfort, style at the height of fashion and competitive pricing explain why most women prefer designer brand name lingerie.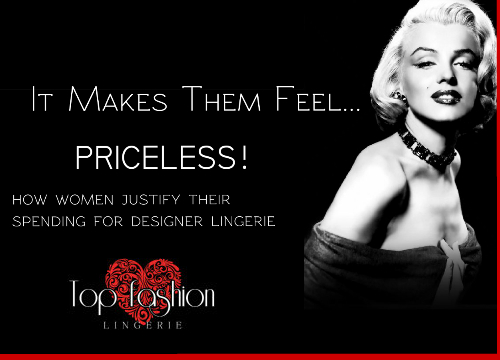 To understand why women feel the need to purchase designer lingerie is to understand how good it makes women feel to wear these designer brands.
Women feel priceless!
And, this is how women justify spending a little extra when it comes to fashion brand fine lingerie, nightwear,  lounge wear, and intimate apparel.
Healthier Living & Lifestyle Is A Booming Economy In The Fashion World
Environmentally conscientious and fashion savvy shoppers appreciate quality fabrics, craftsmanship and manufacturing of designer collections and brand labels.
The largest breathing and most sensitive element of the human body is our skin.  The quality of the clothing we wear impacts on our skin much in the same way the quality of food we eat impacts on our good health and immune system.
Shopping for quality fashion is more than an aesthetically pleasing experience.  This is also how women justify their spending for expensive lingerie designer collections and brand name lingerie labels.
Shopping for quality fashion doesn't mean having to make sacrifices.  Budget your time as well as your savings to take advantage of the promotional incentives provided by these online boutiques.
These online shops pride themselves for impeccable service for customer care and customer satisfaction.